WHEN TO ORDER AND SEND YOUR WEDDING STATIONERY
Below is a guideline of when to send your invitations out.
We recommend getting in touch a good 2-3 months before you would like to send them out if possible, as the more time we have to work with, the better to arrange samples and send proofs.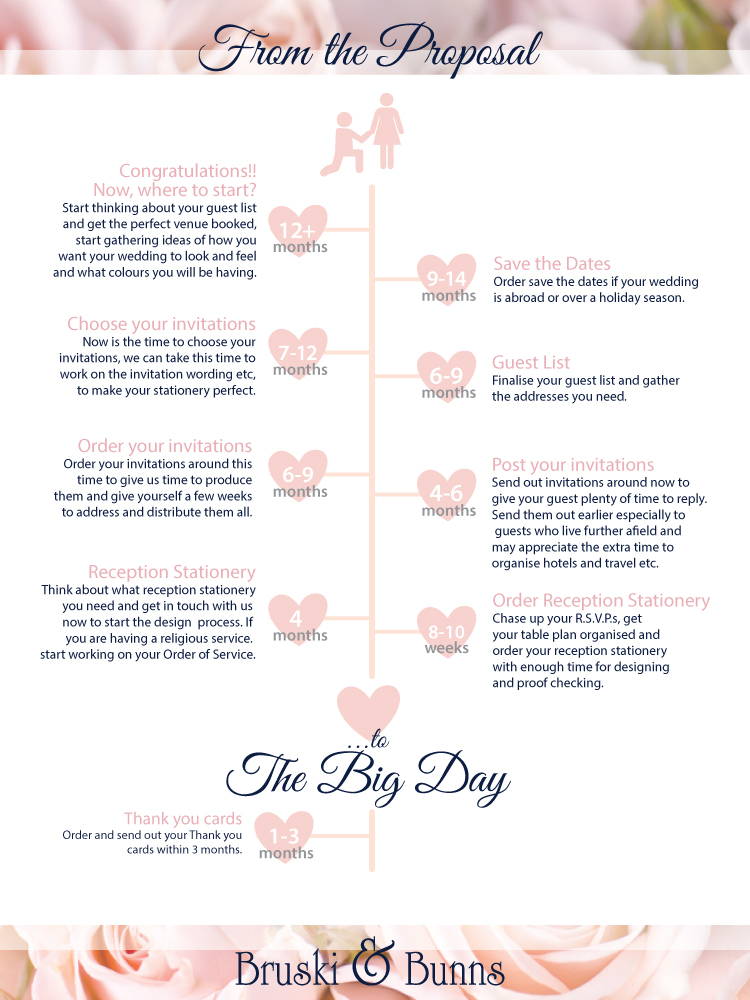 WHEN TO SEND YOUR SAVE THE DATES
Save the date cards are sent to announce the date of your wedding, letting guests know that they are invited. Generally they are sent to the day guests only to avoid any confusion. If you would like to send them to your evening guests too then we can change the wording to say 'Save the Evening'.
Our couples send out Save the Date cards around 1 year before the wedding, sometimes a little more or less. More notice is generally needed if your wedding is abroad, your guests are abroad or if your wedding falls in the middle of a holiday period. A year before gives your guests plenty of time to request time off work, book accommodation, arrange child care and save money.
---
WHEN TO SEND YOUR WEDDING INVITATIONS
Your wedding invitations should contain everything that your guests need to know about your wedding. The most important parts are the main details, when, where and who is invited and an R.S.V.P. card / R.S.V.P. details. Often included is accommodation recommendations, directions, a gift list and any important details about the day, parking, timings, the dress code, and a link to your wedding website (if you have one).
We recommend sending your day and evening wedding invitations 4-6 months before your wedding, although our couples sometimes send them a little earlier. You should then set the RSVP date for around 6-8 weeks after sending them. Often your venue will have a date around 2 months before when you need to confirm numbers, so it's worth checking this day and allowing yourself an extra couple of weeks to chase up any late repliers.
When you post the invitations, please bear in mind that depending on your chosen design, the finished enveloped invitation may be thicker than the allowance for a standard stamp. We advise you take an invitation down to your local post office when they can check the weight and size for you and confirm postage costs.
---
WHEN TO ORDER YOUR ON THE DAY STATIONERY
Order of service
If you are having a church service and require an order of service booklet, this is generally the first reception item we start work on, ideally a few months before your wedding and at least 2 months before if possible. You will need a copy of your finalised wedding service from your priest / vicar in the form of a word document that can be sent to me on email. I will then set up the artwork in your chosen design and create digital proofs that you can check. These are also sent to your Priest / Vicar as they usually like to see the design in full before it is sent to print and we like to allow enough time for amendments to be made if required.
Table plans and table stationery
We can start setting up the designs for the reception stationery once you have your guest numbers almost ready and know how many tables you will be having and what they will be called. We will set up first proofs to get the design finalised and then we can wait till 3-4 weeks before to ensure there are no final guest changes and we can go to print.
Signs & other reception stationery
Any signs and stationery where there won't be any potential changes (dependant on guests etc) we can create at any point and if you have something in mind then we would advise getting in touch as soon as you are ready then we can get it produced and with you early so it's ticked off your list. If there is anything you are interested in that isn't yet on the website, please get in touch.